For more than 40 years, IABC's Gold Quill Awards have recognized excellence in strategic communication worldwide and are acknowledged as one of the most prestigious awards programs in the industry.  BMT was awarded an Award of Merit in Communication Management.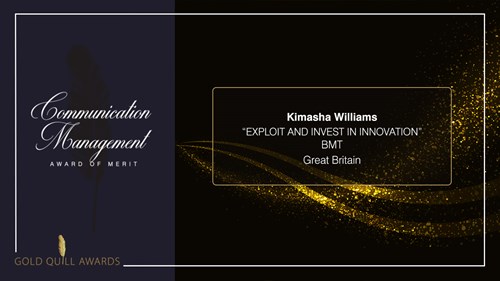 The communication campaign, Exploit and Invest in Innovation, was designed to enhance how employees think and collaborate on innovation to meet the needs of our customers.  
BMT's award was presented for having "a campaign to support an innovation strategy ended up driving the strategy, resulting in actual innovation projects," commented evaluators.
The communication campaign was led by Kimasha Williams, Communications Project Coordinator, and team: Michael Barry, Innovation Chair and Del Redvers, Head of Stakeholder Engagement.
In total, the IABC awards committee selected 203 entries as world-class. Winners come worldwide, representing a cross-section of public and private sector organizations, both large and small. The field was very competitive this year, with almost 700 entries.
Kimasha Williams said:
"At BMT, we are committed to delivering excellence in strategic communications that drive results for our customers. I feel honoured for our work to be recognized by such a prestigious body," 
The awards were presented at the virtual Excellence Gala, on 16 June, as part of IABC's Virtual World Conference. For more information on the Gold Quill Awards, including the complete list of winners.
####
About the International Association of Business Communicators
With 10,000 members and more than 100 chapters worldwide, the International Association of Business Communicators (IABC) is the only global association that connects business communication professionals with the people and insights needed to drive business results. Founded in 1970 and supporting professional communicators at the heart of every organization, IABC serves the collective disciplines of business communication professionals through professional development offerings, certifications, awards and recognition programs, online resources, Communication World magazine and the annual World Conference.