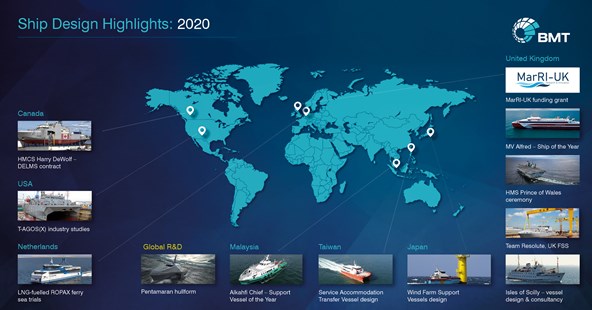 Throughout the COVID-19 pandemic, BMT has continued to work collaboratively with its maritime customers and partners to deliver a near business-as-usual service, and as the year draws to a close the business is celebrating a year of successful and diverse ship design project milestones and contract awards from across the globe.
From concept and design through to in-service support, throughout 2020 BMT has provided engineering consultancy for national governments on their naval procurement programmes. This includes helping to define specifications or requirements for maritime assets and reviewing evolving designs; in September, BMT was awarded a contract to conduct industry studies to advance the design of the next generation of U.S. Navy Auxiliary General Ocean Surveillance Ship (T-AGOS(X)). BMT is the Prime Contractor partnered with Philly Shipyard. BMT and Vard Marine also celebrated the acceptance of HMCS Harry DeWolf, an Arctic and Offshore Patrol Vessel, as it was delivered to the Royal Canadian Navy during the summer. As the prime contractor for the original Design, Engineering, Logistics and Management Support (DELMS) services contract, BMT assisted Canada's Arctic and Offshore Patrol Ship Program Management Office in the project Definition Phase and assembled a Canadian-led design team that comprised Canada's foremost Arctic marine designers.
BMT has continued to work with commercial shipyards as a design partner, including participation as a member of 'Team Resolute' with Harland & Wolff and Navantia in the imminent UK Fleet Solid Support ship competition. BMT is also in partnership with Marine Specialised Technology (MST), who were selected by the UK Ministry of Defence to provide two state-of-the-art high-speed fast patrol vessels; BMT is providing the design as well as an Integrated Logistics Support package for this programme. Looking back at past successes, a notable highlight in the year was a ceremony on board HMS Prince of Wales which celebrated the alliance, including BMT's role as a designer, in the construction of two Queen Elizabeth Class aircraft carriers. 
Demand for BMT's ship design expertise extends well beyond the defence sector; 2020 has seen contract wins in both the Ferries and Offshore Energy markets. The business recently designed their first two Wind Farm Support Vessels, specifically for operation in Japan. In Taiwan, the pioneering BMT-designed Service Accommodation Transfer Vessel (SATV) for the Formosa 1 Offshore Wind Farm Project has now been commissioned and commenced its first long term charter for Siemens Gamesa Renewable Energy. BMT also continued to add to its range of proven passenger and ROPAX ferries with a contract win for vessel design and consultancy services that will provide the next generation of essential life-line travel and freight services to the Isles of Scilly.
Investment in research and development, and a commitment to innovation, have remained fundamental to BMT throughout 2020. The launch of its next generation Pentamaran hull form, an unmanned surface vessel designed for military or commercial applications, garnered immediate attention; tests have proven it offers significant reductions in drag compared to conventional hull forms. For applications where fuel economy is paramount, these results are of particular interest. A research project led by BMT also received a funding grant from Maritime Research and Innovation UK (MarRI-UK); BMT consultants and engineers are investigating Asset Leasing Models that could be used to accelerate the adoption of Energy Saving Technologies. BMT values its commitment to leading the way in designing and supporting vessels that lower the environmental impact, working towards more sustainable designs and solutions and using alternative fuels for the future. This was demonstrated by the successful sea trials of a 100% LNG-fuelled ROPAX ferry, designed for the operator Rederij Doeksen in the Netherlands. 
Vessels designed by BMT also received maritime industry accolades this year: the Alkahfi Chief, a midsize crew boat, won 'Support Vessel of the Year' at the 2020 Offshore Support Journal (OSJ) Awards; the BMT designed passenger ferry, MV Alfred, was also voted 'Ship of the Year' by Cruise and Ferry Review.
BMT's Business Development Director, Rob Teasdale, commented:
"2020, despite its global challenges, has seen BMT expand its ship design offering to new markets, invest in cutting-edge concept designs, and work with our partners to deliver vessels to global customers which are now in service. Vessel owners, operators, shipbuilders and suppliers continue to come to BMT for our trusted, world-renowned design and engineering capabilities. We are excited to help more commercial and government customers to deliver and support safe, capable, reliable and sustainable vessels as we head into 2021 – and far beyond."