Areas of risk identified
Miguel Centeno, BMT's Risk and Quality Manager, has reviewed multiple data points over a three-year period, within BMT MATE™, a cloud-based tool that captures and visualises a vessel's condition over time, and identified that there are three common areas of risk:  
hatch traverses and lashing platforms

 

container sockets and lashing rings

 

safety railing (and guardrails) used near open holds

 
The condition of lashing platforms, container sockets, and lashing rings has been seen in almost 60% of all inspections completed over the last three years.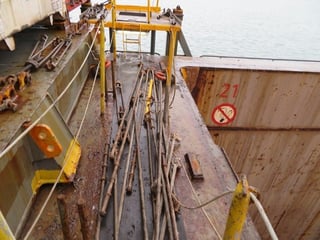 In 50% of the inspections conducted, the condition of safety railing and/or portable railing along hatch beams and/or open cargo holds does not meet the required safety standards and regulations.  
This alarming observation escalates the risk of injuries and, in extreme cases, even fatalities. 
Areas to be scrutinised 
Lashing bridges and hatch traverses should be provided with safety railings, such as at the outer ends.  
For holds in open position, arrangements are to be made to prevent people falling into the hold. If such safety railing is not of a fixed type, it should be verified that portable railing (usually stanchions / sceptres, interconnected with ropes at two different levels) are placed in position by the crew and in a sound condition. 
Mooring lines that are not secured on mooring drums should be connected using mooring bitts rather than on warping drums (drum ends). Mooring lines that are secured on split drums (often referred to as auto-tension drums), should not contain multiple layers due to the high risk of entanglement.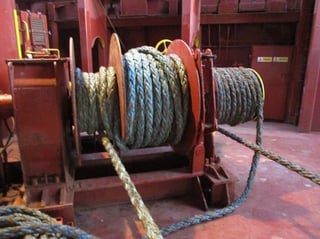 How BMT supports you 
We recommend the maintenance of these areas are acknowledged and prioritised to ensure risk is mitigated.  
BMT works tirelessly with our customers to foster a culture of safety and strives to continuously improve the standards of the shipping industry. 
Contact a member of the team to find out how we can support you in mitigating risk in vessel maintenance.