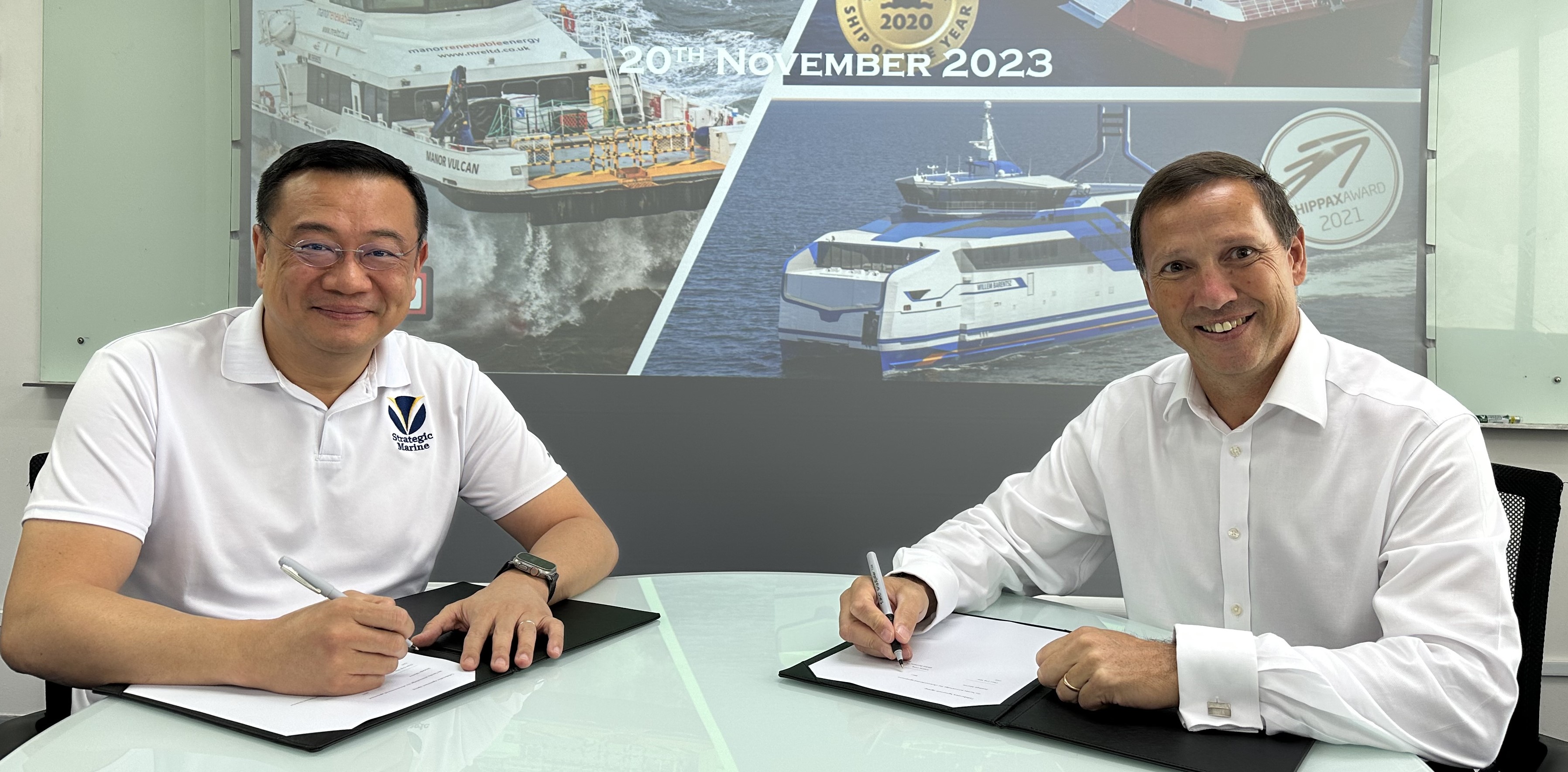 BMT is delighted to announce a Long-Term Agreement (LTA) with Singapore-based Strategic Marine, forging a powerful collaboration aimed at driving the offshore wind crew vessel industry towards a more sustainable future.
This partnership will introduce cutting-edge design solutions to meet emissions-reduction goals, specifically focusing on advancing the world-leading StratCat range of Crew Transfer Vessel (CTV) designs.
Martin Bissuel, BMT's Head of Sales Commercial Maritime explains:
"Our partnership with Strategic Marine brings together extensive expertise into this market, empowering us to innovate and contribute to the ongoing energy transition. This collaboration not only presents an exciting challenge that allows us to accelerate design innovation in the CTV sector but, more importantly, it underscores our industry's commitment to exploring and achieving lower-carbon operations." 
"The new long-term contract and partnership confirms Strategic Marine's trust in BMT's naval design and the capability to undertake diverse projects across naval shipbuilding and support programmes globally. This evolving project is built on BMT's proven design capabilities, where our customers' needs and requirements are at the heart of our process."
Strategic Marine, renowned for producing top-tier ships globally, stands as a dynamic force in shipbuilding with a portfolio spanning over 600 vessels. The company excels in building high-quality, high-performance marine crafts for various applications, including maritime, offshore energy, tourism.
Mr. Chan, CEO of Strategic Marine, adds:
"Strategic Marine is delighted to be a part of this collaborative effort with BMT as we jointly continue to innovate together to bring about industry leading "vessels of the future" to meet current and anticipated requirements by owners, adhering to our motto that is "Built to work."
This collaboration is a testament to both companies' commitment to sustainability, aiming to drive innovation into the offshore wind industry as it moves towards a reduced-carbon future, partnerships like these become crucial for achieving collective goals and adapting to changing conditions in the industry.
Monty Long, Global Business Development Director for defence, maritime and security at BMT concludes:
"With the offshore wind industry expanding globally, the addition of bespoke, state-of-the-art designed CTVs to Strategic Marine's growing fleets positions them well to meet the increasing demand for their services. This project once again showcases our evolving design capabilities in the rapidly expanding global offshore wind industry."