The ARES 65 Fast Crew Transfer Vessels (FCTV), the result of a successful collaboration between BMT and ARES, are designed and built to service Turkish Petroleum's requirement for the transfer of offshore personnel and logistic support.
With a length of 20 metres, the FCTVs are built from aluminium and equipped with twin MTU 12V 2000 M86 Engines and Kongsberg S45-3/CA Waterjets, enabling them to achieve a speed of 47 knots, solidifying its position as a high-performance solution. The vessels operating in up to Sea State 5, can transfer up to 12 passengers with 3 crew, in quality interiors with onboard sleeping quarters with spacious kitchenette and mess areas all of a high-quality finish.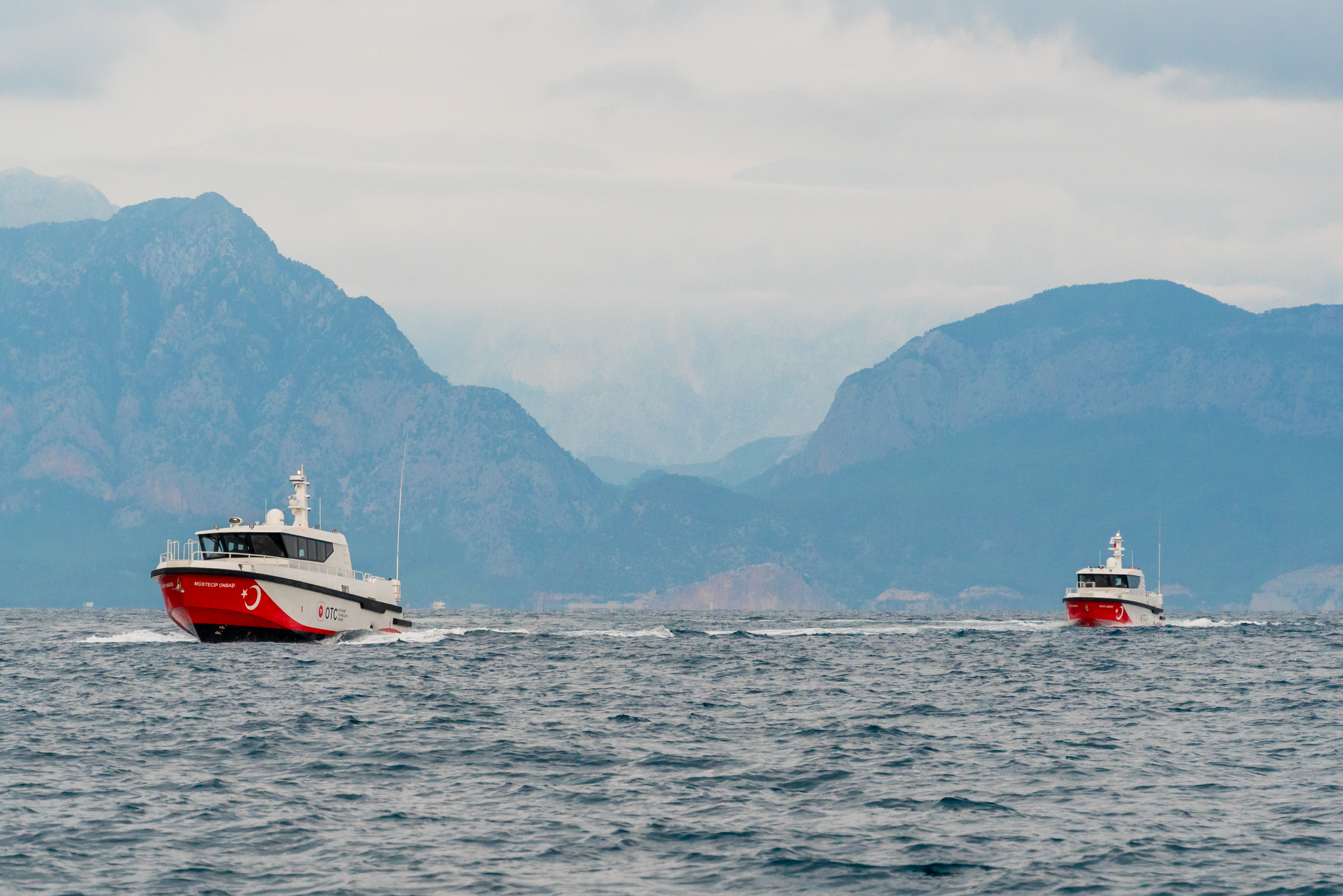 The ARES 65 FCTVs also feature a state-of-the-art Dynamic Positioning (DP) system, which allows the vessels to maintain their position and heading automatically, even in challenging weather conditions, making crew transfers safer and more efficient, ensuring that personnel can safely and quickly board and disembark from offshore installations. Equipped with a unique shock-mitigating seating system, the vessels provide a comfortable ride for passengers even in rough sea conditions. This advanced system reduces the risk of injuries and fatigue, enhancing the overall safety and comfort of crew transfers.
Leveraging the design success of other in-service fast patrol vessels designed by BMT, the ARES 65 FCTVs join a growing fleet of ARES and BMT successful designs that utilise a similar aluminium hull form, providing excellent stability and manoeuvrability on the water.       
Martin Bissuel, Head of Sales at BMT commented:
"The excellent collaboration between BMT and ARES combines BMT's extensive technical experience in designing and engineering high-performance vessels with ARES's expertise in building high-quality, high-performance vessels. We are thrilled to have worked with ARES on this offshore support project and delighted with the ongoing performance of the vessels."
Yagmur Akca, Business Development Manager at ARES commented:
"This collaboration with BMT signifies a valuable milestone for ARES, considering ARES and BMT's long-standing strategic partnership. Successful delivery of the ARES 65 Fast Crew Transfer Vessels marks our strength in the commercial market, highlighting our versatility. We take pride in this achievement and eagerly anticipate further expanding our presence in the maritime industry through continued collaborations with our strategic partner BMT."