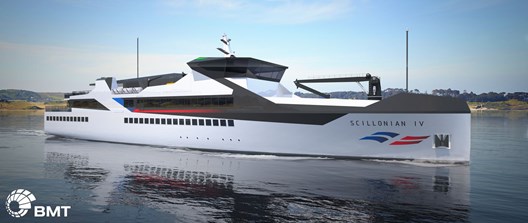 The Isles of Scilly Steamship Company's new passenger and cargo vessels designed by BMT are to receive funding from the government as part of the "Levelling Up Strategy" funds announced by Chancellor Rishi Sunak in the autumn budget.
The bid for the funding was jointly submitted by the Isles of Scilly Council, Cornwall Council, the Isles of Scilly Steamship Company and other island partners. The £48.4m investment will support the construction of the new vessels together with some infrastructure improvements. In addition, the project will benefit from a further £5.4m of local funding to be provided by the Isles of Scilly Steamship Group, Duchy of Cornwall and Tresco Estate.
As a key part of this project, BMT's passenger ferry and cargo vessels were specifically designed to meet the community's present and future requirements established during a thorough public consultation. The main requirements highlighted were to improve resilience and reliability, reduce journey times and improve passenger vessel comfort.
The 'Scillonian IV', a striking new 72m passenger ferry, will provide a 50% increase in capacity carrying 600 passengers over three decks with a contemporary, comfortable seating arrangement, onboard coffee shop and retail area. With the ability of reaching 18 knots, it can reduce journey times by 20%, and anti-roll fins will improve the comfort of the crossing.  In addition, with its increased cargo capacity it can transport chilled and frozen goods, it will offer improved access for passengers with reduced mobility, and will use an advanced hybrid propulsion system.
The 45m dedicated cargo ship to replace the Gry Maritha will significantly increase cargo capacity and include more space for chilled and frozen goods. An improved lounge for up to 12 passengers will also provide better passenger comfort during the winter. The vessel is also fitted with a state-of-the-art propulsion system to reduce the vessel's emission.
Commenting on the funding, Sylvain Julien, Director of Naval Architecture at BMT, said:
"To be involved in such a prestigious project that directly supports government initiatives in bolstering opportunities for local communities in the UK is a great achievement - particularly for an island community that is completely reliant on sea links and accessibility for prosperity. We have long been committed to leading the way in designing vessels that reduce the environmental footprint whilst supporting the drive to increasing capacity, and we are delighted to see this funding come to fruition in support of meeting critical local growth initiatives."