BMT is proud to have supported the Hook Island Eco Resort's (HIER) development application, which recently received unanimous approval by the Whitsunday Regional Council. The redevelopment of this iconic destination will deliver low-impact tourism infrastructure to the area previously impacted by cyclones in 2011 and 2017.
Working with Tract Consultants, BMT supported planners with responding to relevant local and state government policies and provisions, delivering both ecological and coastal hazard assessments for the resort.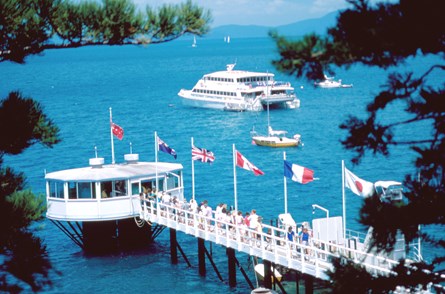 Hook Island Underwater Observatory, 1989 (Supplied: Queensland State Library)
"We were delighted to be part of the team helping to rebuild tourism in the Whitsundays. Our dedicated coastal and environmental specialists worked to ensure the Hook Island Eco Resort was planned and designed to achieve a sustainable balance with nature," commented Dr Philip Haines, Managing Director Environment Australia. 
"The approved development has a small infrastructure footprint and is dominated by temporary structures such as tents which can be removed or relocated quickly when confronted by cyclones. Changes to our climate will likely result in more intense cyclones in the future and so adaptive and responsive developments like this will be critical to allow for eco-tourism in areas that are naturally vulnerable to these hazards", he concluded.
While the nature-based accommodation delivers a unique option for the environmentally conscious traveler, it also provides Queensland an opportunity to pivot towards the domestic travel market and boost an industry hardest hit by the COVID-19 pandemic.
The HIER team, led by Development Director Stephen Wolf on behalf of owner Glenn Dickson, was responsible for the vision of the development and ensured support for a flexible planning amendment outcome that provided maximum development flexibility.
"Our vision is to restore Hook Island to its natural state and provide visitors with a unique opportunity to immerse themselves in the beauty of the region. Andrew Burns and his architectural team skillfully conceptualised this vision, and all stakeholders who came along on the journey should be very proud of the overall approved masterplan," commented Stephen Wolf, HIER Development Director and Director of Bauenort.
Congratulations to the coordinated team of local and national partners involved in the successful delivery of the approved Masterplan, including Andrew Burns Architecture, Bauenort, Hook Island Resort Group, Premise and Tract.