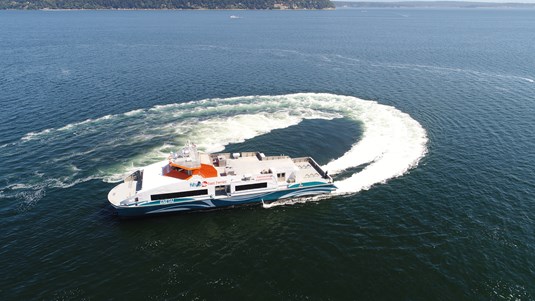 BMT's latest passenger ferry, designed for Kitsap Transit in the United States, has successfully completed sea trials and is ready to start operation in the next few weeks. The ENETAI out-performed design requirements during vessel trials, delivering to Kitsap Transit; a lighter, faster, and smoother riding vessel.
Enetai is the first of two 140ft (42.6 m) high speed catamarans built to a BMT design by Nichols Brothers Boat Builders (NBBB) in Seattle, US. Her sister vessel, Commander, is due to be launched later in 2021.
The vessel has a capacity of 255 passengers on a single deck; accommodating today's commuter expectation of dedicated bike storage, with space for up to 26 bicycles. Designed with combined bow and side loaders to enable operations at multiple terminals, the vessel will provide a key commuter link between Pier 50 in Seattle, Southworth and Kingston.
Twin MTU 16V4000 M65L engines combined with Kongsberg S71-4 waterjets allow the vessel to reach a top speed of 38 knots and a cruising speed of 35 knots. This makes Enetai one of the fastest vessels designed to meet the new US EPA Tier IV exhaust emissions regulations.
The design also includes an active ride control system ensuring a smooth and comfortable ride at high-speed. The vessel displays nimble maneuverability and superior responsiveness owing to its latest generation of waterjet drives and design emphasis on lightweight construction.
Sylvain Julien, Director of Naval Architecture at BMT, explains:
"This new design incorporates the latest in exhaust after-treatment technologies, leading to a significant reduction in the emissions of NOx and Sox, thus paving the way for more environmentally friendly fast passenger ferries worldwide."
BMT's renowned expertise in efficient hull design, combined with NBBB's proven ability to build high quality aluminium vessels to stringent weight requirements, has resulted in a vessel with low displacement and minimal wake wash, protecting the stunning flora and fauna of the Puget Sound and further enhancing her green credentials through reduced fuel consumption.
At BMT, we are committed to leading the way in designing vessels that lower the environmental impact, and we continue to work towards increased sustainability by leveraging alternative approaches to ferry design.