Dr Phil Thompson, who leads BMT's Simulation & Training Systems business, has written a chapter for The Nautical Institute's second volume of its Collecting for Guidelines Maritime Evidence series. The book launched at London International Shipping Week 2019 (LISW19) focuses on collecting and preserving electronic evidence and how readers can use it to understand the circumstances that led to a maritime incident. The book sets out good practices to avoid significant casualties onboard ships and the lessons learned from their errors. Within the first few days of the book launch, sales of the book had already exceeded 3,000, representing a wide variety of maritime stakeholders.
While not wholly replacing traditional records, data from ECDIS, VDR and AIS are now established as vital resources for investigators. Dr Thompson sets out clearly how careful processing and merging of disparate data sets, based on proprietary encrypted data and open-industry formatted data sources - can be used to help answer a fundamental question: "What happened?" But he further illustrates how further post-processing and the integration of electronic data with advanced simulation techniques can help answer two other questions: Why did it happen? And what can we learn?
Dr Phil Thompson, Simulation and Training Business Director at BMT, said:
"The guidelines set out in The Nautical Institute's book will assist a broad range of maritime stakeholders in better exploiting the latent potential of electronic data. It will also help to promote the early resolution of collision and related disputes. New opportunities are likely to open up for broader mariner training and reflective learning, which further supports the wider shipping industry in building an effective lesson's learned culture."
Introducing the book, Captain Ian McNaught CVO MNM FNI, Deputy Master of Trinity House, said: "Seafarers must understand the need for accurate evidence after an accident on board ship." He added that the expert advice contained in Volumes 1 and 2 would enable seafarers to protect themselves and defend their actions through the production of such evidence.
Dr Thompson has pioneered several developments across a range of disciplines including, advanced monitoring and simulation, data science applications and digital reconstruction forensics. Many of these developments are now used routinely in Commercial Shipping and Offshore Oil and Gas. More recently, they have gained international acceptance with some of the world's leading statutory marine accident investigation bodies.
The Guidelines for 'Collecting Maritime Evidence', Volume 2, can be bought from The Nautical Institute or online.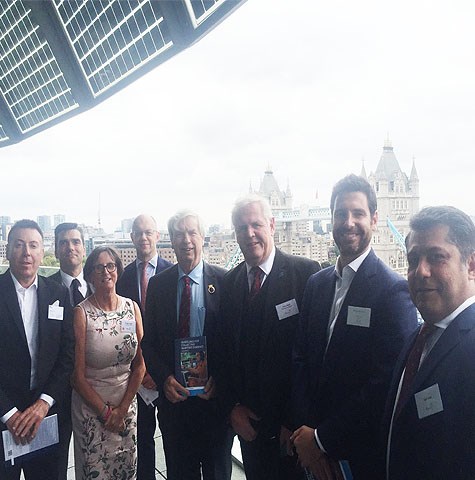 Image: From left Dr. Phil Thompson - BMT - Author, Phil McAllister - Designer, Bridget Hogan- Director of Publications and Membership (The Nauctical Institute), Paris Mangriotis - London Offshore Consultants - Author, John Noble - Technical Editor - Author, John Lloyd- CEO (The Nautical Institute), Jack Hatcher -Technical Editor- Author, Zarir Irani - Constellation Marine- Author