This article was first published in the April 2023 issue of Port Strategy and is reproduced here by kind permission of Mercator Media: full digital edition
In today's busy world, there are few container terminals that do not suffer from a degree of congestion in their normal daily operations. Supply chain issues, post-pandemic delays and a lack of stacking space are typical of the challenges a shipping line will face when requesting a terminal to accept, not only several hundred distressed containers, but also thousands of sound containers, at short notice, from a mega box ship casualty.
Container terminals also have time constraints. It is not unusual for some of the world's busiest container ports to require thousands of undamaged containers to be moved out within a week, which is a very short timeframe. The logistics involved in resolving these issues are costly, and the shipping line may have to divert other container ships to the port of refuge or even charter ships purposely, in order to lift the sound containers at short notice.
If long delays occur at the port of refuge, the cargo interests may abandon their sound consignments to the shipping line, for instance when goods have a fast-approaching expiry date or if the delay negatively impacts the market conditions at the destination. In these cases, a shipping line may task surveyors to establish whether the consignments retain residual value in alternative markets, which requires exploration of salvage sale avenues.
Ever-higher exposures
Large vessels continue to drive ever-higher exposures, with fires, container and carrier losses, hazardous cargo, costlier salvage operations and issues with port of refuge leading to oversized losses and general average becoming more frequent.
"Over the last decade there has been an upward trend recorded of major ships that have been lost to the global shipping industry annually. Most of the time, the public has no reason to pay attention to these sinkings and collisions. But supply-chain crunches caused by the pandemic have made the shipping system more transparent than ever, and more visible than it has been for decades, spotlighting epic cargo losses like the 'ONE Apus' in the Pacific Ocean and 'MSC Zoe' in the north of the environmentally-protected Dutch Wadden islands in the southern North Sea. Meanwhile, more volatile weather caused by climate change and ever-larger container ships mean the risk of losses may be rising."
Whilst a serious fire will not only lead to burnt cargoes or heat and smoke damage, another destabilising factor influencing the survivability of container ships has been the issue of contamination. This issue can be worsened by firefighting water possibly containing chemicals and debris originating from the various wetted products within the wet/flooded holds. A grounding incident and a collision below the waterline could breach the ship's hull, with consequent flooding or a breach of the bunker tanks. Therefore, a serious casualty would most likely lead to a large number of containers/cargoes being distressed.
The distressed cargo can become highly toxic, even deadly, to humans and the environment, and therefore will be a concern to the relevant authorities. As such, distressed cargo often requires expert judgement in assessment to ensure its safety and to protect its residual value.
"Fire investigation is a complicated and multi-disciplinary job," underlines Dennis de Bruin, BMT's Managing Director of its Surveys business,
"One of the most important things we can leverage at BMT, as part of our integrated services' offerings in the marine surveys business, are our IAAI-accredited fire investigation professionals."
He adds "Equipped with a solid foundation in the many skills required to work a fire case properly, our certified surveyors have years on the job, and are constantly updating their skill set to match the evolution of scientific knowledge and investigative techniques through their collaboration with the IAAI. This blend of continuing education/critical training in a core competency like Fire Investigation, and the extensive experience attained through the contextual work across ecologically/biologically significant marine areas (EBSAs) and jurisdictions, augment's our consultancy's highly-capable approach to safety investigation of marine casualties and incidents."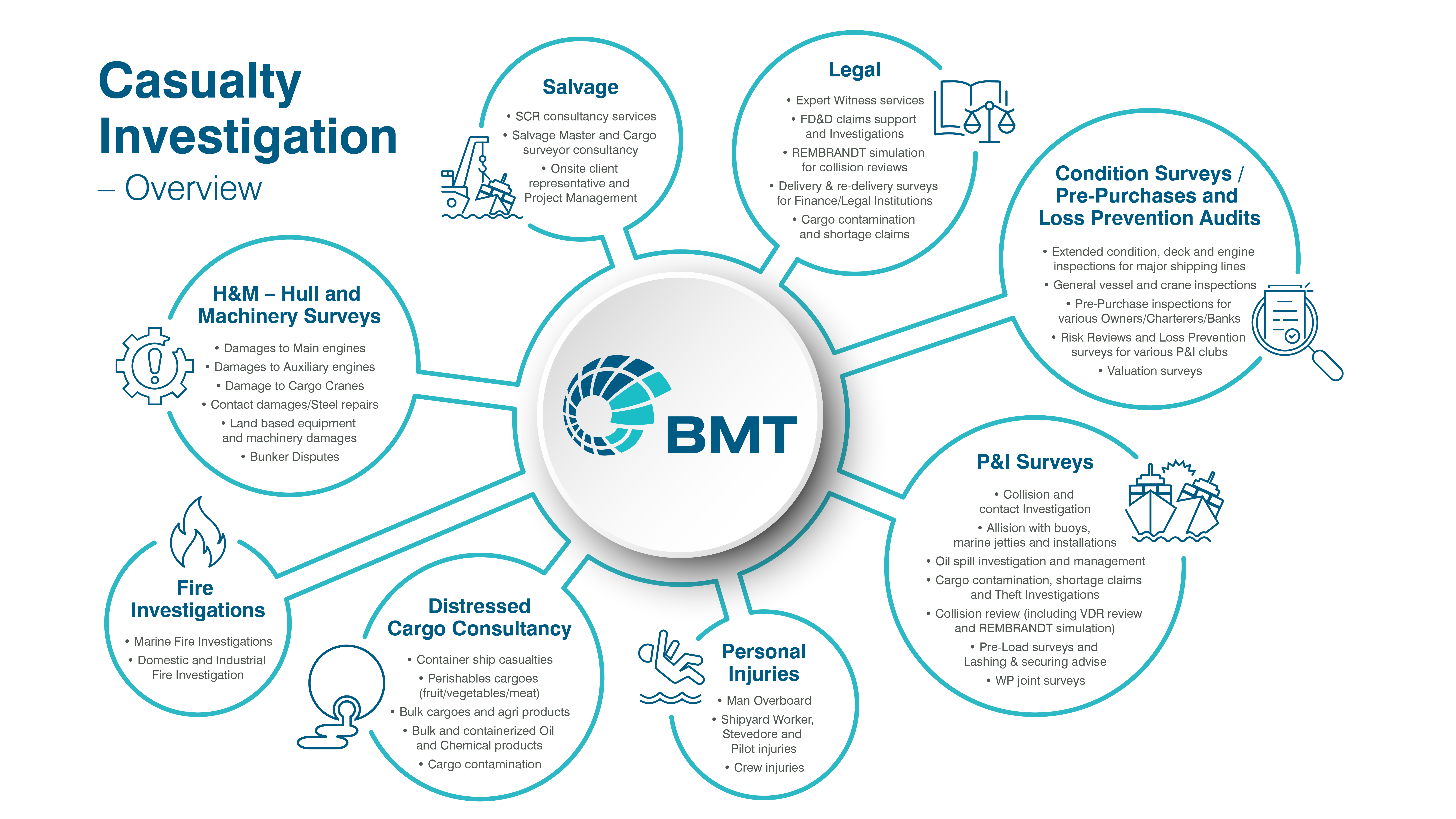 While the number of general shipping accidents worldwide has declined over the long-term, incidents involving larger vessels – namely container ships and roll-on roll-off (ro-ro) car carriers – are resulting in disproportionately high losses. In recent years, fires on board the car carriers 'Felicity Ace' and 'Diamond Highway' both resulted in some significant losses.
Another major ship incident to gain notoriety is the large container ship Ever Forward that ran aground in Chesapeake Bay on the US Eastern Seaboard, and was stuck for over a month, almost a year to the day after its sister vessel the Ever Given ran aground and blocked the Suez Canal for six days in March 2021.
A number of recurring 'structural resilience' themes have emerged in major cargo/container ship incidents in recent years, many of which are a consequence of the increased size of container vessels. As vessels have grown larger, values at risk have increased, while the environmental bar has been raised. However, regulation, safety management systems and salvage capabilities appear to have not always kept pace.
Cargo fires, as well as expanding bulk, general and steel scrap cargoes, are of growing concern. Mis-declared and dangerous goods are a recurrent issue for container shipping, while lithium batteries are an emerging risk for both container ships and car carriers, which are transporting growing numbers of electric vehicles, given existing counter-measure systems may not respond effectively in the event of a blaze. Cargo fires on board such large vessels can spread quickly and be particularly difficult to control, often resulting in the crew abandoning ship.
Port of refuge: challenging
When in trouble, emergency response and finding a port of refuge can be challenging. Large vessels require specialist salvage equipment and port infrastructure, which all adds time and cost to a response. The experience of the container ship X-Press Pearl, which eventually sank after it was refused refuge by two ports following a fire, is a case in point. Too often, what should be a manageable incident on a large vessel ends in a total loss.
Of particular concern is salvage. Re-floating or wreck removal for large vessels is a complex task, requiring specialist equipment, tugs, cranes and barges. The salvage operation for the car carrier Golden Ray, which capsized just outside the US port of Brunswick in 2019, took almost two years and cost in excess of US$800mn. Environmental, social and governance (ESG) concerns are also contributing to driving up the costs of salvage and wreck removal as shipowners and their insurers are expected to go the extra mile to protect the environment and local economies.
Higher salvage costs, along with the burden of larger losses more generally, are a cost increasingly borne by cargo interests. General average, the legal process by which cargo owners proportionately share losses and the cost of saving a maritime venture, has become a much more frequent event with today's growth in container shipping and the increased size of vessels.
Values at risk continue to rise with the size of vessels and inflation, while the costs of responding to incidents and clean-up are now typically many multiples of the ship's value, explains Shahrom Ali, BMT's Salvage/Marine Engineer Surveyor for the Asia Pacific region:
"Larger vessels mean larger losses. An incident involving a container ship can now cost as much as US$1bn, once salvage and environmental considerations are factored in. A major incident involving two mega container vessels in an environmentally-sensitive region could cost in excess of US$4bn."
He adds:
"Our business's cooperation and mobilisation in a complex salvage situation is reflected by recent external industry appointments of BMT personel. Two of our 'salvage masters' were selected by Lloyds to participate in their 'Special Casualty Representatives' (SCR) Panels, covering the EU's maritime jurisdiction and boundaries, where these risk aspects connecting to ultra-large ships that pose high salvage challenges are being looked at continuously."
Value and upside
The positive influences of an increased focus on human safety and security measures over time, such as global ESG regulation, improved ship design and technology, and risk management advances, could limit big ship losses
In today's busy world, however, there are few container ships that do not suffer from a degree of distress or damage in their normal daily operations. As has been demonstrated above, the current climate is also one where there remains significant scope for serious incidents to occur and in which it is difficult to find a port of refuge.
BMT's experience confirms, however, that by appointing an independent third-party marine surveyor clients can glean some value and tremendous upside in conjunction with the necessary remedial work by being able to review the entirety of their distressed container operation from start to finish.
To conclude, a great deal of relationship management, collaboration, technical expertise and commercial intuition is required from marine surveyors in order to ensure they succeed in their 'turnarounds' of cargo management operations, covering both shipboard and shoreside logistics. In modern maritime's era of soft law, an optimal consulting strategy for achieving sector supply chain resilience needs to consider the implementation of ESG factors, and work within economic, environmental, logistic, administrative and legal boundaries. Ultimately, the onus is on these influential factors that drive efficiency across the entirety of massively scalable distressed cargo management operations.