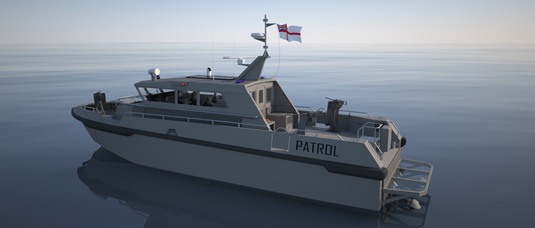 We work alongside the Marine Specialised Technology Group ("MST Group"). We are delighted to announce that HMS CUTLASS, the first of two vessels being built for the Royal Navy Gibraltar Squadron, has undergone initial trials and has performed beyond expectations.
Over recent weeks, the new HPB-1900 has been subjected to rigorous trials to test all systems and performance against a demanding set of requirements specified by the Royal Navy. The latest speed trials showed that HMS CUTLASS is meeting the speed requirements and surpassing them. The vessel is powered by three Volvo D13 engines, each producing 1000 HP and driving triple MJP 350X Waterjets and features unparalleled levels of innovation and technology. The design of the hull form offers outstanding seakeeping characteristics and, combined with Humphree stabilisation fins for the most extreme sea states, is designed for performance even in the most demanding conditions. Operational efficiency is provided by the integrated CGI OpenSea360 bridge system and enhanced situational awareness equipment.
HMS CUTLASS and the forthcoming HMS DAGGER, which is expected to be delivered in Q4 2022/Q1 2023, will be essential assets for Gibraltar's maritime defence and security and its surrounding waters. Both vessels are a significant step forward for the Royal Navy Gibraltar Squadron.
Alongside the RNPL Project, the MST Group collaborates with BMT on the HPB-1500 Police Patrol Craft being built for the UK Ministry of Defence Police (MDP) and Gibraltar Defence Police (GDP). These vessels will join MST's growing range of well-proven High-Speed Patrol Craft which now range from 10.5m to 23.0m in length.
Philip Hilbert, Sales Director for Marine Specialised Technology Group, said:
"Putting technological advancement at the fore, MST and BMT's dedicated teams have produced a vessel that is a true flagship of British innovation. The partnership has seen us work in conjunction to produce one of the most comprehensive ships of this size and type and further affirms our position together in the industry as great leaders respectively. We look forward to further expanding our portfolio globally with BMT and anticipate more successes on this journey."
Martin Bissuel, Business Sector Lead at BMT Specialised Ship Design, commented:
"We are absolutely delighted with the performance of the vessel and the latest speed trails showed the quality and reliability of the engineering behind the design. The craft is also a testament to the close cooperation between the teams in BMT and MST, supported by a supply chain that has managed to deliver a highly innovative design and build whilst dealing with the challenges of lockdowns and uncertainties brought by the COVID pandemic. Our portfolio of patrol boat designs in service around the world is extensive, ranging from 15m all the way to large offshore patrol vessels. We are very proud that the Royal Navy will be operating this latest design."