Last month, employees in Bath took part in Christmas Jumper Day and ran a foodbank collection, which helped to raise some significant funds for Genesis Trust – a charity that supports vulnerable and homeless people in Bath.
Simon Gould, Managing Director, BMT Defence and Security UK said:
"The fundraising effort from across BMT was incredible and it's amazing to see so many people wanting to make a difference in their communities. We were delighted to support Genesis Trust in such a fun way with our Christmas jumpers and with promoting social cohesion values in the community as well."
Hilary Long, Community and Events Manager at Genesis Trust said, "The food and money BMT donated is fantastic and it will go a long way to support vulnerable people. The money raised will help support our projects, such as the Lifeline Centre, which provides a weekly drop in session, where people can come and get advice, breakfast, clean clothes, wash their clothes and have a shower."
A massive thank you to everyone who donated and to those who helped organise the fundraising.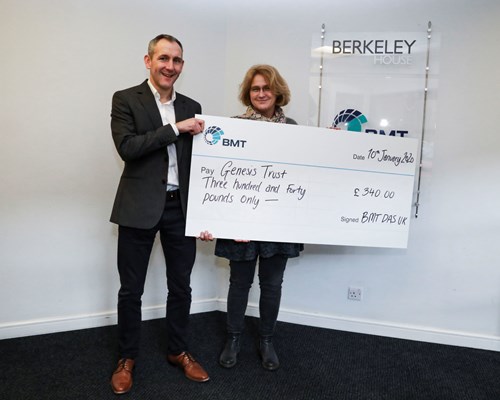 BMT Xmas Jumper Genesis Trust 3: left to right: Simon Gould, BMT Defence and Security UK - Managing Director and Hilary Long, Community and Events Manager –  Genesis Trust.