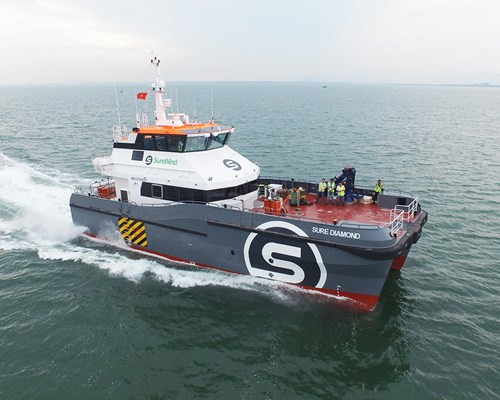 The Blue Economy Cooperative Research Centre (BECRC) has taken its first steps in foundational work that will underpin its research agenda, with the announcement of 17 short-term scoping projects. These industry-focused projects involve collaboration between industry and research partners and will guide the CRC's future.
The new projects are spread across the five BECRC research program areas, involving collaboration with 40 participant organisations across the world and running over the next six months. They are driven by the needs of industry partners and the end-users with whom they engage. The scoping projects cover a range of areas, including research into the following:
Key challenges for offshore high-energy salmon aquaculture production;
Integrated offshore aquaculture and renewable energy infrastructure designs;
Types of marine energy conversion devices suited to offshore conditions that support energy export (such as hydrogen) and storage, as well as aquaculture applications;
Robust site selection procedures, and environmental and operational monitoring strategies including the application of remote monitoring technologies;
Decision support tools for identifying trade-offs and synergies among emerging blue industries and human activities; and
Policy and regulatory frameworks for Australia's emerging Blue Economy
"As a leader in renewable energy, BMT is thrilled to be supporting the CRC Program, a proven model of industry and research cooperation that aims to boost the current value of the Australian aquaculture industry," said BMT's global business development director Rob Teasdale.
"We will drive the project outcomes of the CRC which will directly improve the competitiveness, productivity and sustainability of the national aquaculture industries," added Mr Teasdale.
"The purpose of these projects is to help the Blue Economy CRC develop a clear understanding of existing technologies, solutions, knowledge and trends, and to identify the major challenges and opportunities in each research area," said BECRC Chief Executive Officer, Dr John Whittington.
"These projects will not only provide a platform for future research investment by the BECRC, they will directly benefit our industry partners by pulling together the latest developments in science and technology in this evolving market. These projects will support the development of Australia's sustainable blue economy through the delivery of world-class, industry-focused research into integrated seafood and renewable energy production systems," he said.
The total projects are valued at over $2.3 million, consisting of $858,124 in funding direct from the BECRC, and $1,445,317 worth of in-kind commitments from our partners.
BMT is playing a key role representing Australia in Acquaculture and Renewable Energy, and is leading two projects across all five multidisciplinary streams of the CRC:

PROJECT 1 FROM BMT – "AQUACULTURE VESSEL REQUIREMENT SCOPING STUDY" – CHRIS SHEARER, PROJECT MANAGER
The purpose of this scoping study is to understand the likely requirements of the service vessels needed to efficiently and sustainably operate and maintain offshore/high energy aquaculture farms and potential offshore/high energy multi-use platform operations in the future. Developing an understanding of the likely environmental, operational and technical constraints will enable an assessment of current vessel types and technologies to be conducted. A comprehensive review of the existing Australian and international maritime classification standards and Human Centred Design guidelines from the design, building, construction, and survey perspectives of the aquaculture support vessels will be carried out under this study. Outputs to be delivered include a comprehensive report describing the major gaps that need to be addressed in maritime design standards, and recommendations for maritime certification/legislation bodies in Australia.
AQUACULTURE VESSEL REQUIREMENT SCOPING STUDY
PROJECT 2 FROM BMT - "DEVELOPING A POLICY AND REGULATORY RESEARCH PLAN FOR AUSTRALIA'S EMERGING BLUE ECONOMY" – DR DAVID RISSIK, PROJECT MANAGER
Establishing a strategic policy and regulatory research agenda is paramount to develop appropriate frameworks that are fit for purpose and provide confidence for the aquaculture and renewable energy sectors to operate. By drawing on a systematic literature review, survey and focus group with BECRC stakeholders (industry, research providers and government), this project will develop a coordinated and staged research plan based on these sectors' short-, medium- and long-term needs and priorities.
DEVELOPING A POLICY AND REGULATORY RESEARCH PLAN FOR AUSTRALIA'S EMERGING BLUE ECONOMY