Naval acquisition trends and their impact on innovation
This is exacerbated by the long acquisition cycles typically involved in developing such complex systems combined with inflexible contracting. These factors can limit the opportunity for innovation, and this will become an increasing problem as the rate of technological development accelerates, and opportunities for novel technologies arise. Future warships need to be adaptable to allow for regular upgrades or changes to be made through life, to take advantage of the latest available technologies and avoid obsolescence while maintaining warfighting advantage. To achieve this, it will be necessary to challenge current practice and consider:
Agility in procurement processes to facilitate improved systems.
Clear definition of systems requirements that do not hinder innovation.
De-coupling mission systems development from the 'platform', where possible, while managing systems integration and interfaces.
Design for adaptability which may include modularity to be able to adapt at the pace required by technology
This article discusses some of the current challenges and opportunities faced by procurement organisations, ship designers and shipbuilders, and makes recommendations for changes that are likely to be necessary to enable achievement of the above objectives.
What are the factors driving warship acquisition trends and how are these supporting or limiting innovation?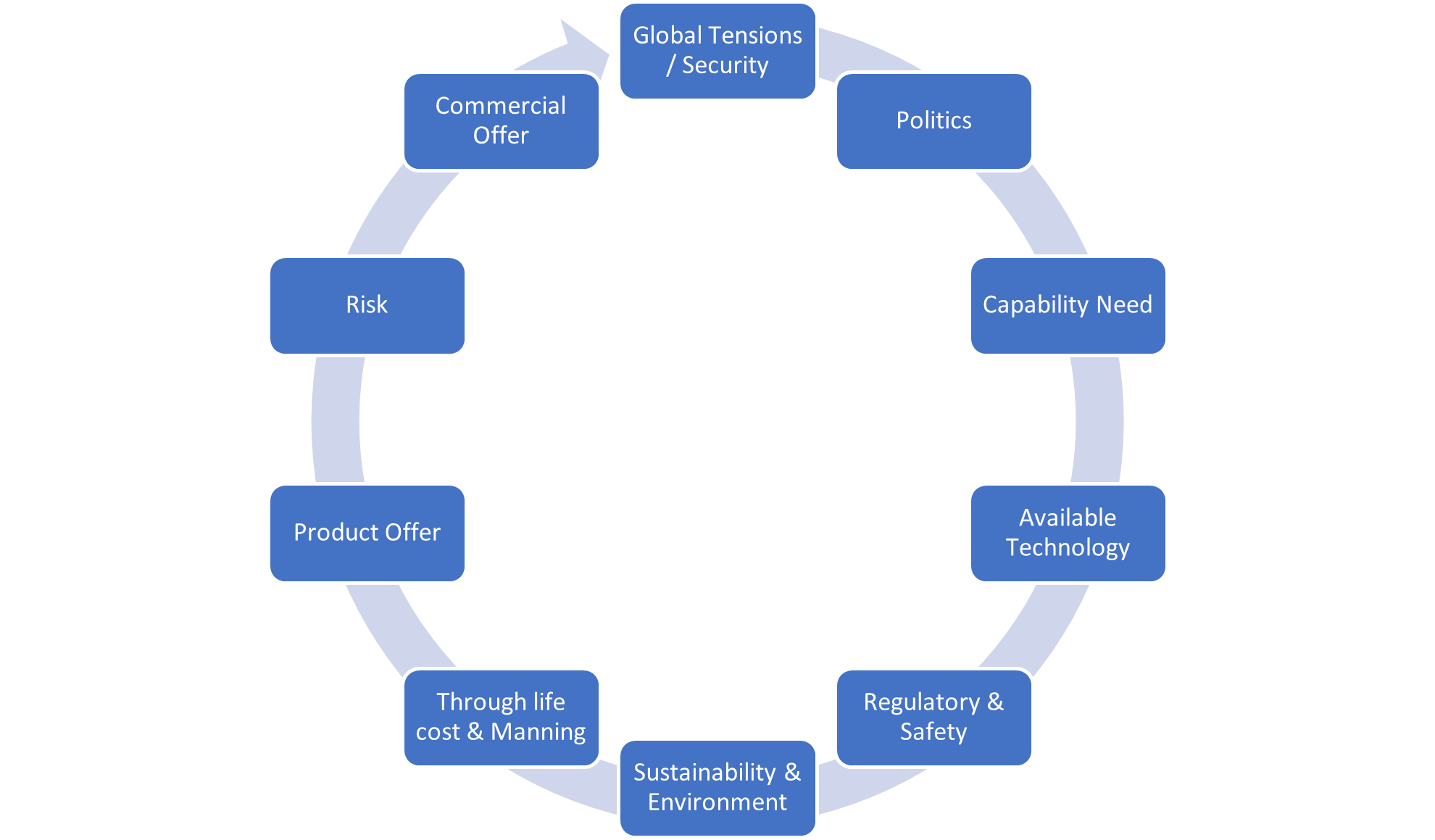 Global tensions and external factors drive the capability need to counter evolving threats or provide maritime security presence. As technology develops, navies need to be able to adapt ships or submarines to enhance their effect or defend from evolving threats. National shipbuilding strategies need to recognise the importance of design and technology innovation as an enabler for export sales as well as the benefits to naval capability. Politics has always played a significant role in government acquisitions where the need for local content is a common theme to support national economies.
Technological advances, driven by the commercial sector, are a driver for change within the military domain. There is an opportunity for military procurement to adopt these enhancements as they become available, leading to improvements in through life capability.
Environmental considerations are playing an increasing part in new ship design projects with an ambition by many governments to reduce emissions to meet net-zero 2050 targets. Dieselelectric and hybrid solutions help to reduce fuel consumption, and the addition of exhaust scrubbers and energy recovery devices are often now specified. The next steps may include batteries or greener fuels but there are some challenges to adopting these technologies in a naval environment which may include increased hazards or higher demands on space. Increasing regulatory requirements enhance standards and safety but can slow down the adoption of new technologies and increase development cycles. Through-life cost reduction is a key  consideration for most navies, where automation and increased autonomy can drive innovation. However, costs can be difficult to balance if budgets for procurement and through life costs are held separately. Intelligent procurement processes supporting whole life costs decisions can make significant improvements but requires robust cost modelling.
Another key challenge relates to crewing vessels in the modern navy. It is becoming increasingly difficult to recruit, and crewing is a significant contributor to through-life costs. The key challenges are maintaining minimum crew for damage control, interfacing complex automation systems with the human, and assuring systems are reliable and safe. Rapid development of digital and autonomous systems continues but it is some years before we will see a fully autonomous warship. However smaller autonomous and remotely piloted systems are in operation already. Therefore, integrating these systems into new and existing ship designs has become high priority for most navies and the adaptability of the ship is an important consideration. Existing designs from a limited number of suppliers may limit innovation, as they aim to minimise programme risk by using proven technologies wherever possible. This, in combination with cost constraints and the unwillingness of procurement agencies to take on risk has the potential to limit innovation.
How will Naval Ship Design Evolve  in the future?
There is market demand for more flexible, versatile and multi-functional ship designs. The trend is to offer increasing functionality from future ships by including multi-role features or building in greater adaptability to allow through life developments in line with technological advances. There continues to be a trend for mission modularity within NATO nations, but in reality this is difficult to achieve and may result in some compromise to the ship design, and therefore its mission effectiveness. Our research at BMT suggests this compromise can be significant and needs to be carefully considered with a clear understanding of the concept of operations. To be able to integrate new technologies without major alterations to the ship requires margins in the design, alongside flexible infrastructure and open architectures which interface readily with new systems. These are the important factors to get right at the specification stage.
There will be increasing adoption of uncrewed systems in the naval domain, successful integration onto warships is important. The concept of operations will need to continually evolve to capitalise on the operational advantage that new systems offer. Greater levels of digitalisation and automation will also be important and will continue to evolve in the coming years, but this must be combined with improved reliability to provide the required availability to support reduced manning.
Sustainability will also play an increasingly important part in naval shipbuilding, resulting in increasing focus on energy efficiency and reduced emissions and these goals will start to impact in a greater way upon the wider supply chain, shipbuilding, and disposal activities.
How can these challenges be addressed?
Acquisition of warships is extremely challenging due to product complexity with limited opportunity for physical prototyping, combined with complex government procurement processes, political challenges 'i.e. short term views driven by political cycles', cost constraints, programme risks and the competitive environment. Procurement authorities want low risk and low cost but they need innovation to give their armed forces the best tools they can afford. How can they manage this tension?
They need experienced programme management and engineering professionals, supported by a pragmatic and agile commercial function that can manage this complex risk environment in a way that does not make the programme unaffordable and allows for adoption of new technologies as late as possible. This may require decoupling of the platform from the mission systems to some degree, enabled by adaptable design, flexible and open infrastructure, modularity, and offboard systems. However, there needs to be a fundamental change to the procurement process to enable this. BMT is involved in naval procurement programmes across the globe, most significantly in the UK, USA, Canada, and Australia, each with slightly different objectives. Based on this experience and a recognition of the challenges outlined, the agile procurement model presented in figure 3 may offer several merits.
Industry studies recently adopted in the US help to refine requirements, study design and technology options and test affordability. If this were followed by a flexible design-led contract, it would allow for the insertion of technology as late as possible in the design process. This approach would thereby mitigate obsolescence and the cost escalation that would be experienced if a ship design and build contract had been placed earlier. Parallel technology development of 'mission systems' including exploitation of modularity and autonomous systems development, based on agreed interfaces and integration parameters would allow design progression, but the key point is that some flexibility and the ability to trade-off requirements to allow technology adoption should remain. An option here is to introduce agile practices for high technology 'modules' while retaining more traditional acquisition methods for the resulting simpler 'platforms'.
The resulting approved baseline design can then be taken to tender, with the government able to receive the lowest fixed price contract due to significantly reduced risk in the design and selected technology options. The maturity of the design at this point should include partial detailed design, minimising time to 'cut steel' date for the first of class. Earlier selection of the shipbuilder is possible in this model and may be necessary if they were to be responsible for procurement of long lead items, although this could be undertaken by the government. This approach may place more risk on the government but removes risk (and therefore price) from the shipbuilder, so overall programme outcomes are improved. Alternatively, a programme management contractor could be selected to manage the whole or parts of the process on behalf of the government, with an appropriate commercial model employed to achieve the overall objectives. This must not remove the intended flexibility of the approach and can still allow competition for build if that is required by the shipbuilding strategy.
The adaptable ship design that results from this process can be upgraded through life via technology insertion. A digital twin* supports this technology insertion and maintains configuration control of the evolving ship and mission system configurations for each member of a class, while supporting optimisation of the assets performance in terms of performance, operating costs, availability, environmental impacts, training, and safety.