As a business, we've founded our reputation on our ability to solve complex problems for our customers. When something needs to be faster, safer, simpler or more efficient, some of the world's biggest companies and governmental organisations rely on the ingenuity and expertise of our employees to get the job done.
But the COVID-19 pandemic has added a new layer of complexity, forcing companies and governments alike to adapt to the "new normal" and adopt new ways of working. The same holds for BMT, of course. Still, despite the challenges posed by working remotely, we've nevertheless been able to deliver world-class solutions for our customers' most significant technical and engineering projects.
A perfect example of this was the BlueScope Coal-Train Unloading Automation Project, in which our experts were tasked with designing, supplying, installing and commissioning an electrical and computing system to unload coal from trains at the BlueScope steel smelter at Port Kembla in New South Wales, Australia.
The task of opening and closing the wagon doors while the trains are moving is quite complex and includes the inherent risk of having trackside machinery collide with the trains. So, to solve the problem, we selected and supplied an array of different sensors, including laser scanners to measure the trains' speed and position, wheel sensors to count train axles, and RFID scanners to identify locomotives and wagons.
We then wrote bespoke software for the system that controlled a pneumatic system to mechanically open and closed the doors on the bottom of the train wagons to unload the coal. By designing and implementing an automated system, we could precisely track the trains' speed and position through the facility and relay the data to our software to actuate the opening and closing of coal wagon doors at the correct time. As a result, we reduced the requirement for staffing the facility, reduced human error and reduced the risk of collisions with the train.
But while we were able to visit BlueScope when designing the system, the swift spread of COVID and the resulting travel restrictions meant that physically commissioning it in person on site wouldn't be possible. However, thanks to close collaboration with the customer, our Automation and Robotics team could remotely dial into our automation system and use remote 3D virtual reality environments synchronised with the facility in real-time. As a result, this online "digital-twin" allowed us to visualise the operation in combination with pan-and-tilt cameras and commission the train unloading automation system remotely, with each team member working from their respective homes in Brisbane on the weekend.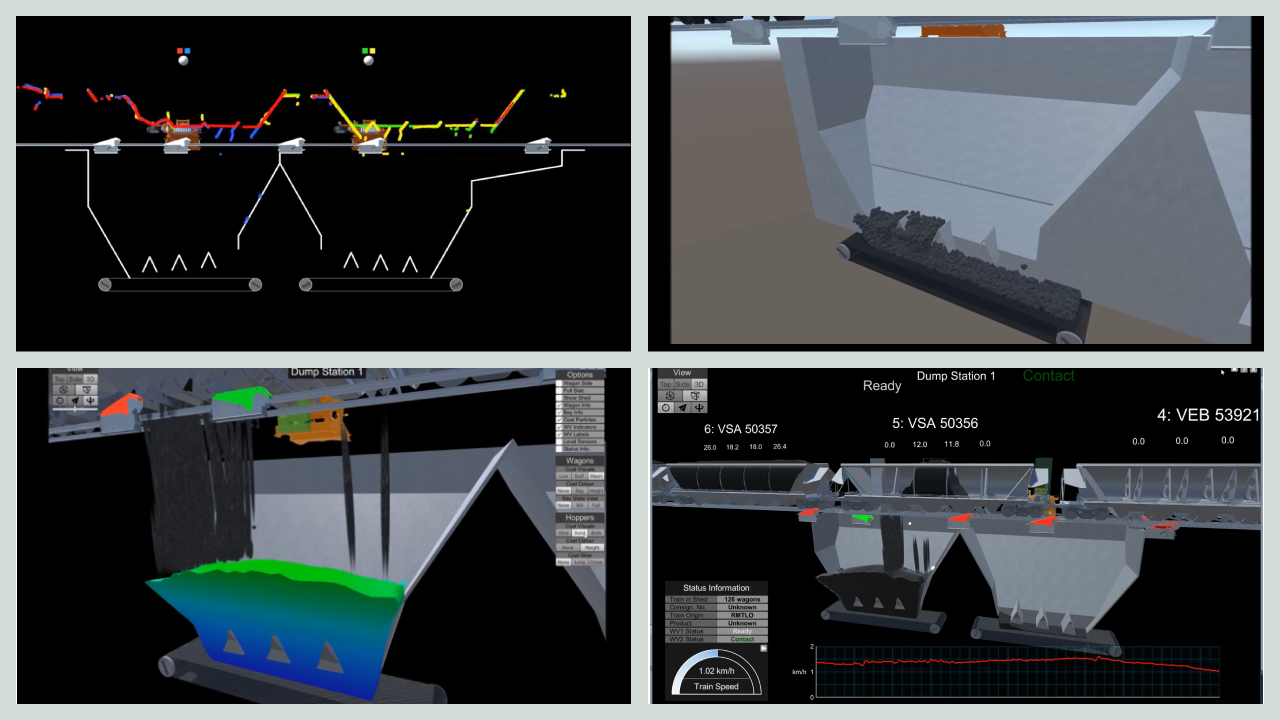 It's just one example of how our innovation has helped us to overcome new challenges and quickly adopt new ways of working to deliver world-class solutions in a post-COVID world.