Materials Research and Engineering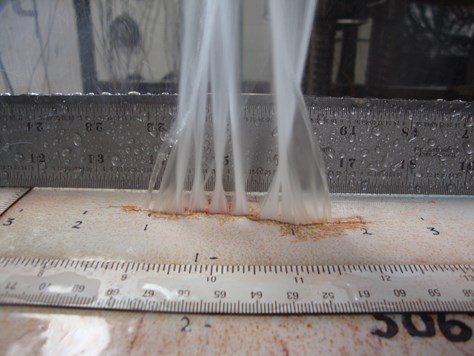 The suitability or interaction of materials are evaluated to support design, maintenance and forensic investigations. Metallurgical, weldability and mechanical issues are considered to ensure compliance with codes  and standards, enhance construction and repair solution success and reduce the potential for inservice degradation and failure. Experience and research- inspired expertise supports vintage and modern material focused design and repair solution development, specification and documentation. Stress analysis, material behaviour (strength, fatigue and fracture), testing and analysis are employed in root-cause failure analysis.
Full-Scale Testing of Pipeline Anomalies
BMT has developed full-scale testing facilities and procedures to evaluate the strength and fatigue life of damaged or degraded (cracked, corroded, dented, buckled or wrinkled) pipe.
Facilities and Resources
Mechanical test laboratory for material and component testing 
Metallurgical facility for microstructure and forensic investigations
Full-scale testing for pipe with pressure, evaluating degradation or anomalies
Welding laboratory for procedure, material and equipment development
Field instrumentation and data acquisition
Extensive in-house capability
BMT also conducts leak rate testing to support consequence evaluation of through-wall cracks.The facility is used extensively to create and test dents (simulated and removed from service) with and without corrosion and weld interaction to evaluate fatigue life.
Failure Analysis
Novel Test Procedure Development/Application
Standard Testing Services
– Tensile Strength
– Toughness (CTOD, J-R, SENT, CVN)
– Fatigue (SN, Strain Life, Crack Growth Rate)
– Weld (Bend, Tekken, WIC)
– Hardness
Full-Scale Testing Services
Dent With and Without Weld, Metal Loss, Cracks, Assessment and Performance Evaluation
Wrinkle and Wrinkle Bend Assessment and Performance Evaluation
Feature Assessment based on ILI data defining integrity and inspection interval
Fatigue Crack Growth in Pipe Body and Long Seam
Pressure Testing
Leak Rate Evaluation
In-Service Material Characterization