We win the ADMIRALTY Marine Innovation Programme's Autonomous Navigation International Challenge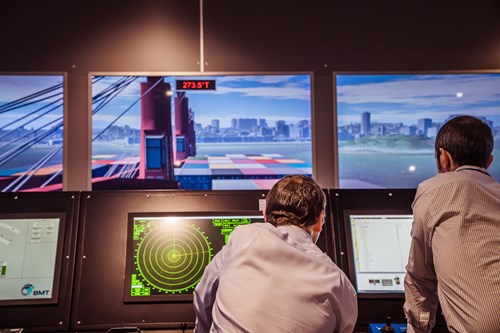 In support of The UK Hydrographic Office's growth aims to power the Blue Economy and unlocking the potential of marine geospatial data across our industrial sector, we are set to launch a new solution that can enhance autonomous and manned shipping operations planning using UKHO's ADMIRALITY charts and licensed data exploration sets worldwide. 
The UK Hydrographic Office (UKHO) has this month announced us as the winner of the first ADMIRALTY Marine Innovation Programme challenge, which included entrants' representation from nine different countries.
Launched earlier this year, the programme aims to help start-ups and innovators develop new solutions that support safe, secure and thriving oceans. The programme's first innovation challenge focused on 'Unlocking Autonomous Navigation' and tasked participants with identifying how marine geospatial data can support the safe navigation of commercial and military autonomous ships.
The award-winning software solution from BMT and data fusion multi-agent framework not only aids navigation and safety of autonomous ships, but current manned ships also. This technology has been field-tested in a simulator based environment and is now commercially set to launch to realise advanced intelligence and autonomy benefits in terms of planning, situational awareness, shipping safety and decision-making. In this challenge, being aligned with the aforementioned aspects, a multiagent-based data fusion in maritime and environment traffic monitoring networks that exploits the interaction between agents (vessel–vessel, vessel–shore station), is proposed to achieve smart navigation at individual level, and as a whole to explore the system mechanism for all types of shipping.
Applied in real-world industrial applications for navigation support and high-level decision-making, and thanks to the design perspective of this software that especially focuses on critical knowledge transfer, the gradual transition towards an increase in autonomous shipping can also be made easier through efficiency gains achieved in operational decision-making. The prototype system from BMT has been implemented from scratch to demonstrate the key features of the proposed autonomous framework. Through characterising the multi-agent architecture of data fusion software tools and incorporating the corresponding navigational aids, the system can be further developed and applied for various commercial applications in autonomous transit domains and management scenarios.
From recent developments, we are now targeting eight new global manned and autonomy shipping markets with joint BMT-UKHO product/services supporting ship operators, ports and ship designers. These include new-generation dynamic under-keel clearance systems, digitally enhanced port operation modelling, autonomous vessel search and rescue and next generation onboard e-navigation for the safety critical cruise and LNG shipping sector. We are already engaged with existing and new customers - port authorities, pilot organisations, cruise, ferry and LNG ship operators and autonomous ship designers - to rapidly roll-out this innovative technology
For this challenge, we created a new navigation system, which combines our field-proven  REMBRANDT and TUFLOW simulation technologies to enhance autonomous operations planning and real-time navigation safety in busy waterways and ports.
The system successfully simulated the navigation of a 140m part-autonomous ferry in Plymouth port using multiple ADMIRALTY data sets. This new application can also be linked to other external and environmental data sources, including satellite and automatic identification system (AIS) receivers, to ensure safety and efficiency.
As the challenge winner, we will collaborate with the UKHO, utilising marine geospatial data and expertise, to develop an alpha product for the autonomous shipping sector. In addition, as part of this challenge, we have won a seat at the IoT Tribe Space Endeavour Accelerator to further develop technologies using satellite-derived data.
Our Chief Executive, Sarah Kenny OBE commented:
"We strongly believe in the development of, and transition to, a fully autonomous world and we are particularly proud to put our experience and knowledge towards a challenging navigation project that could become a catalytic factor for industrial innovation in this area and beyond. Thanks to these initiatives, introduced for the very first time this year by the UKHO, we will strengthen our technological leadership in a very competitive sector."
Dr Phil Thompson, Director of Simulation and Training Products commented:
"Receiving this international award from the highly-esteemed UK Hydrographic Office (UKHO) is indeed an honour. We continue to further develop our technological expertise in the field of autonomous vessels' navigation with the goal to create a centre of excellence in the UK for one of the strongest growing maritime sectors."