Impacts from climate related hazards are regular occurrences and affect many in the community. Understanding the risks associated with these hazards to people, critical assets and organisations is essential.  Important sectors such as Aged Care, have an essential role in supporting a highly vulnerable part of our community.
During the 2019 Noosa bushfires, thousands of people were evacuated from the region, including 131 patients and 24 staff from a nursing home. This severe fire danger identified the necessity for a planned response to climate related hazards.
Noosa Shire Council recognised this and engaged BMT and Resilient Projects to work with the aged care sector of the region to increase their capacity in disaster planning and business continuity. The project aims to have an engaged, resilient and disaster-prepared sector where vulnerable senior residents of Noosa are cared for adequately in the event of a disaster or emergency.
"Protecting vulnerable community members such as aged care residents is a critical component of community resilience. Noosa Council has shown a great leadership in bringing the aged care sector of the region onto one platform to enable the sharing of knowledge and ultimately paving a path for increased disaster resilience of these facilities," commented Dr Fahim Tonmoy, Associate Principal Engineer, BMT.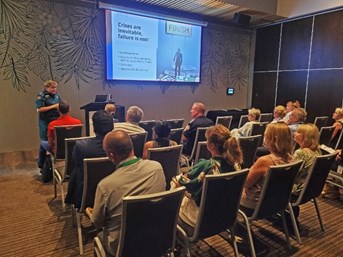 As part of this project, a kick off workshop was held, with participants including aged care providers and retirement village managers in Noosa. We were able to present information about the hazards in the region, discuss our approach, and gather useful information from participants. Importantly, the participants were able to engage with each other and relevant disaster management agencies and share information and experiences.
Peter Harkin, Queensland Fire and Emergency Management Services (QFES) Disaster Management Coordinator of the region and Annette Morris from Queensland Ambulance Service discussed the role of different agencies and the complexities of evacuation of aged care facility during an unfolding natural hazard. 
Annette Morris, Officer in Charge, Sunshine Coast Local Ambulance Service Network said, "We can all make positive change during disasters by sustaining high resilience and planning, testing, and changing prior to the event.  The responsibility belongs to us all to care for our Elderly and Community during Disasters, we all need to be prepared."
Following on from the workshop, all Aged Care and residential living providers in Noosa were invited to have a one-on-one discussion with BMT and 'Resilient projects', who are the partner in this project, to conduct a health check on their disaster management and business continuity planning.
The business continuity 'health check' found the following:
The majority of Aged Care and residential living providers are open to sharing knowledge to help each other build collective capacity of the sector.
Discussions of critical functions and business continuity plans identified opportunities for all providers to increase the depth of their planning.
Power and supply chains are critical for Aged Care and therefore it is important to build depth and redundancy into these functions.
Some providers already have plans in place with 'sister providers' and have called on this relationship to assist when a full site evacuation is required.
"Well done on facilitating Noosa Council's recent Aged Care Sector workshop.  The workshop helped local aged care providers to understand disaster hazards, their risks and the importance of preparation and planning.  I look forward to seeing the benefits of your ongoing work with improved business continuity and evacuation plans", Peter Harkin, Emergency Management Coordinator North Coast Region, Queensland Fire and Emergency Services.
We are looking forward to continuing our work with this important sector and to supporting them to fine-tune their business continuity plans.