BMT's Cathy Ingram wins Equality of Opportunity category at the Women in Defence UK Awards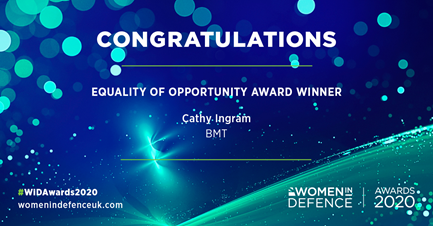 We are delighted to announce that Cathy Ingram, Principal Naval Architect at BMT, won the Equality of Opportunity Award at the 2020 Women in Defence UK Awards virtual ceremony. First held in 2016, this prestigious event celebrates incredible work, provides inspiration and promotes the value of women in the sector. Since the launch, over 1900 nominations have been made – over 300 stand-out individuals and teams a year.
Cathy's award category recognises where an individual, team or organisation has worked to create an environment where there is equality of opportunity for any gender.  Cathy was recognised for leading change as one of the founding members of BMT's Technical Women's Forum – initially a gathering of female engineers, which has since grown to include representation from across the organisation -  and for her involvement helping BMT to improve recruitment, belonging, equality, personal development, STEM engagement, health, and work life balance.
Cathy commented:
"It's a privilege to have won this award. I'm proud to support Women in Defence, and their tireless ambition to promote equality of opportunity across the defence and security sectors. Thank you to them for this acknowledgement, and to my BMT colleagues and wider network who all passionately support the drive for positive change."
Simon Gould, Managing Director at BMT, commented:
"Through Cathy's hard work and passion, she has helped to create an environment where equality can be discussed, all genders are supported, and the results and benefits can be seen across BMT. We are very proud of Cathy, and all that she has achieved."
Our congratulations to Cathy, and to all of the outstanding winners and nominees recognised at this year's ceremony – they are a credit to the industry.