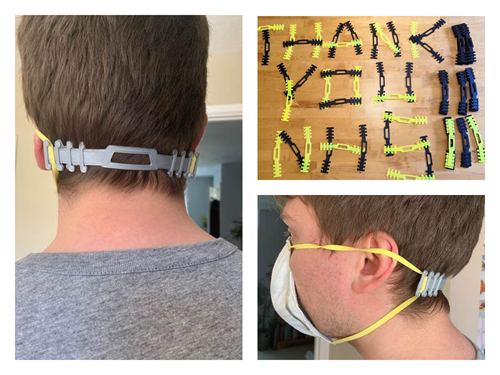 In addition to using our in-house printer and a printer purchased with staff donations, our employees have also stepped up and used their personally-owned printers at home.
We received the call for safety equipment directly from the NHS, and we're proud to have sent two shipments of surgical ear masks and visors to local hospitals in Somerset, where they are most in demand. The Surgical Mask Ear Guards are designed to prevent the rubbing and sores behind the ears that traditional surgical mask straps often cause.
Nick Williams, a graduate naval engineer, said:
"Putting our printers to good use and helping the NHS in these extraordinary times is the least we can do. It's really rewarding to hear that they're helping improve the comfort and safety of both patients and front line staff"
The printers have been operating for over 1080 hours and have printed over 200 visors and 447 Surgical Mask Ear Guards (and counting!).
Jake Rigby, Research and Development Lead, said:
 "I'd like to say a massive thank you to all those in BMT who are helping to print these items. We understand that printing is slow, so we can only provide a very small number of items to the overall cause, but every little bit helps and together we can help the UK to be prepared for the crisis."