By 2030, it is predicted that 60% of the world's population will live in cities. With this ever-increasing urbanisation comes a corresponding decrease in biodiversity and ecological habitats, some of which will be irreversible. In fact, a recent study carried out by London's Natural History Museum [1] concluded that almost half of the natural biodiversity within Britain has disappeared as a result of the habitat loss and ecological damage caused by urbanisation and farming. It noted that this was more than almost anywhere else in Western Europe.
Nowhere is this loss of biodiversity felt more than in urban watercourses and river catchments where river channels have been buried beneath the ground (culverted) or canalised, no longer able to offer the natural environments upon which fish, bird life, invertebrates and all other species need to survive and flourish. This over-management of water courses and their catchments in the name of urban development has inadvertently also increased the flood risk to these urban areas, which the management was intending to reduce. With the increased impact of climate change on peak river flows and increased rainfall intensity, this flood risk is only going to increase.
In response, there is an urgent need to explore projects that provide multiple environmental benefits and address the intersection of these key threats.  In this vein, flood mitigation projects that can also improve urban biodiversity and offer opportunities for carbon sequestration are becoming more and more attractive to regain some of this diminishing environmental value.
BMT have been working with Local Authority clients in the Greater London area to develop innovative solutions that alleviate flood risk by developing wetlands, with the dual intention of providing flood risk benefits to residents and improving the biodiversity in the area and seeking opportunities for carbon sequestration. One such example of this is a project carried out for London Borough of Enfield.
The Turkey Brook in Enfield is a heavily canalised river running through North East London. It is lined by 3m high concrete walls, runs through a heavily urbanised area has no connection to the surrounding landscape and offers very little to aquatic life in the area. Furthermore, with the impacts of climate change, the river was predicted to put over 400 properties at risk of flooding. BMT developed a hydraulic model of the watercourse to assess this flood risk, and to propose flood alleviation measures, utilising space available in the nearby Albany Park to store the water in times of high flow, thereby protecting these properties from flooding and providing resilience to the community from climate change driven flooding.
While leveraging the benefits of flood alleviation, the project also provided wider environmental benefits to the watercourse and to Albany Park. These included:
Planting of 200 trees for landscaping and carbon sequestration.
Planting of wildflower meadows and marginal plants for carbon sequestration, biodiversity and habitat creation.
Restoration of 400m of the Turkey Brook River to provide improved habitat for aquatic life including backwaters for fish spawning, and the removal of a weir to facilitate fish migration.
Creation of 3Ha of improved or new fish, bird and invertebrate habitat within the floodplains, wetlands and Albany Park.
Improved water quality through selective planting of plant species to encourage bioremediation.
The resulting project has transformed a neglected watercourse and park into valuable wildlife habitat, thereby restoring some of the lost environmental value to this small corner of London while building practical resilience to climate change.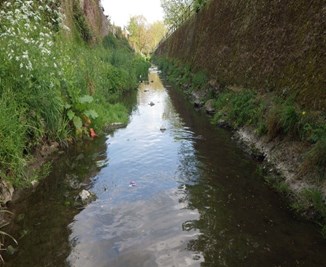 Watercourse before the transformation.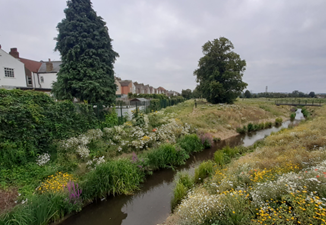 Watercourse after the transformation.