How digital transformation is changing our customers' worlds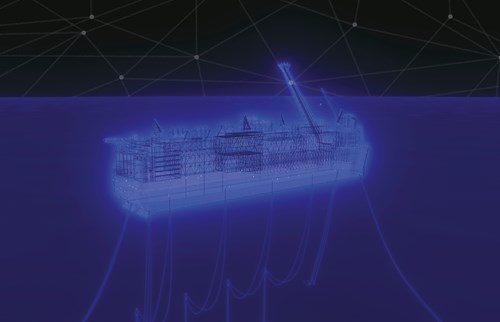 Data has always been an important asset across the oil and gas field development life cycle, from initial reserve assessment right through to decommissioning.
In recent years, we've seen significant shifts on the client side to leaner operating structures, a push to reduce field development costs through standardisation and a desire to maximise the operating life of current assets.
Data is key to achieving these objectives and our customers, who have been collecting asset integrity and operational data for many years, have increasingly been mining and analysing that data to make decisions on everything from supply chain to life extension.
Industry expectations have increased in line with the rate and speed of technological change. For example, the need to reduce costs has made manual data cleansing too time-consuming, leading to advances in how this process can be automated.
Inevitably, user demographics have also changed, with younger engineers coming into the business expecting data 'now', rather than waiting for data scientists to manually analyse it, or for it to be shipped from offshore to onshore, as used to be the case. They expect applications, rather than traditional data hosting sites.
More recently, there is a real push towards the idea of data sharing, with industrial giants in all sectors giving free access to datasets and offering to pay for insights where these will improve operational efficiencies.
So, it will be interesting to see how these 'data liberation' movements progress.
How has BMT been adapting to this changing landscape?
"We understand sensors and we understand data. We have always seen ourselves as a data delivery company, identifying early on the need for Digital Transformation to increase margins and keep pace with industry and demographic expectations.
"Historically, our sensors and instrumentation systems were mainly used as indicators to support safe operations offshore.
"Our helideck monitoring systems, for example, are used to let operators know whether conditions are safe for a helicopter to land on an offshore platform, while the systems we put on risers and mooring lines let operators know whether their assets are stable and safe to use for oil production.
"In some cases, regulators have mandated the use of these kinds of sensors and instrumentation systems in order to keep production running and protect the environment.
"Over many years, we realised that our real-time systems had collected an immense amount of environmental, metocean and asset structural integrity data."
"We initially began managing that data through a data centre so that we could create fleet-wide status reports for our operator clients.
"But, as the data analysis and consulting side of the business grew, we realised that we needed to change our business model to provide higher-value services to our customers and make our delivery more efficient. So, we moved our services to the cloud and developed a proprietary data analytics platform that we call BMT DeepTM.
"This digital platform allows us to provide operational insights and generate data quality assurance and other detailed reports in near real-time. Accordingly, we've moved away from the unit pricing of reports to a subscription model, driving costs down for our customers.
"Our analysts, data scientists and customers can now focus on mining the data to look for long-term trends, which can be anything from seabed subsidence to structural fatigue. It's this high-value work that drives efficiencies and cost savings.
"But, for these 'big data' analytics to be useful, it's important to have a high degree of confidence in the base data sets, so we're very focused on addressing the issue of long-term data quality and making sure that we organise these multi-year data sets efficiently.
"In recent years, we've adjusted our internal instrumentation systems engineering processes to include data traceability analysis.
"This allows us to trace processed data variables back to our instruments, providing a fully audited data trail. We've also included real-time automated quality assurance (QA) on our local acquisition system software.
"This gives operators an early indication of a sensor malfunction so that they can pre-emptively schedule maintenance, thus reducing downtime and risk. In addition to automated data QA checks, we've added numerous additional features to BMT DeepTM over time, such as custom analytics. For example, for one major operator in the North Sea, we're developing a set of applications that automate hull fatigue analysis and deliver reports that can be accessed directly by local regulatory authorities."
So, is BMT DeepTM an IoT data analytics platform, then?
"An interesting question. BMT DeepTM can be described as a data management platform that provides customers with a digital replica (or twin, if you like), of their assets, whatever those assets might be.
"We do this by applying data fusion and machine learning principles to sensor data and converting this into graphics.
"This gives engineers and operations managers a complete virtual and interactive picture of how their assets are performing in real-time and flags up where pre-emptive actions can be scheduled to reduce downtime or increase safety. The same principles apply whether the asset is an oil rig, an industrial plant, a vessel or a piece of mining machinery.
"Some commercial data analytics platforms can either be somewhat generalist, or in the energy sector, they may focus on something very specific, such as optimising production, so the tool monitors control data, such as temperature, flow of oil or pump pressure.
"What our engineers have understood is how critical asset design and performance is across a number of sectors, and they have embedded these specialist insights into the BMT DeepTM platform to provide a fully integrated whole-of-life picture to the operation of the asset.
"BMT DeepTM was designed by engineers who have been analysing industrial sensor data on behalf of other engineers and operations managers for many years so the dashboards and graphics are very intuitive for these end users, they are also interactive and customisable, allowing them to drill down into each dataset.
"This is important, because not everyone who has access to data may know how to process, clean and organise that data in ways that make sense, and not everyone who may be asked to look at a dataset will understand what they should be looking for within the data or even how to interpret that data to add value and save costs.
"Adding structure and highlighting the value of this data is precisely where we can help, relieving the end user's frustration at having to filter large data sets to find the event or behaviour of the asset that they're most interested in.
"Let's take a large asset, like a Floating Production Storage Offshore (FPSO) platform that is located out at sea. During a storm event, the asset may suffer damage. An unexpected event, such as a large wave, may impact the platform and break a mooring line.
"Without data on the asset's behaviour, this may go undetected and to understand more about what has happened, knowledge about how the onboard sensors have been configured, the sampling rates and the synchronisation of their in-built clocks will be critical to forensically investigate what has caused the damage."
What has Digital Transformation meant for BMT?
"It's been fascinating to see how this process of Digital Transformation has allowed us to diversify and add value to our bottom line. Having automated the laborious and time-consuming aspects of data processing and cleansing, we've reduced overheads and exponentially increased the volume of data we can manage.
"Crucially, this has enabled our data scientists and analysts to do more interesting and meaningful work. It's gratifying to see how this technology can be usefully applied more widely.
"We can, for example, help monitor maritime pollution and environmental performance by taking water quality telemetered data from on-site sensors and present a complete timeseries that not only shows whether operations are meeting water quality objectives, but can also alert stakeholders of any potential exceedances, with details of location and impact.
"So, our business model has changed and we now work collaboratively with our customers, using our technology to help support their own Digital Transformations. Digital teams working on the client side are trying to consolidate their digital footprint and streamline the way they serve their internal and external stakeholders in all markets and sectors. Our role is to listen to their transformation objectives, share our own learning and apply our data science and engineering expertise to solve their problems.
"We are also now in the next phase of a disruptive transformation program. This will see us delivering a modularised 'data toolbox' approach, both to our data acquisition software platform product, BMT DeepTM, and our sensor and instrumentation project-delivery process.
"Our aim is to continuously reduce capital expenditure costs for our customers, providing confidence in our integrated life-of-field solutions through a configuration management and systems engineering approach."
How are we innovating to solve customer problems?
"Our data acquisition instrumentation systems and sensors need to be able to operate in a particularly challenging, heavily regulated maritime environment.
"They operate on the digital edge, measuring both the external forces present on customer assets, such as wind, waves and ocean current, and the asset's physical and structural responses to these forces. As a result, we're constantly innovating in this space to increase safety and reduce costs.
"To avoid the need for saturation divers to install sensors, which is a high-risk activity, we've developed sensor systems that can be deployed by underwater Remote Operated Vehicles (ROVs).
"And we're innovating with Artificial Intelligence, by using algorithms to monitor mooring lines, for example. As the name suggests, these lines are anchored to secure the offshore platform to the seabed. Measuring the tension in a mooring line is challenging and systems tend to have a high failure rate.
"So, to address that, we developed a proprietary 'Position Response Learning System' that uses deepwater simulation technology to accurately predict mooring line tension through inputs of GPS position and motion. We found that the accuracy of our simulations improved when we added metocean data, such as wind and sea current data.
"Using our AI algorithms means our customers can use existing surface-based sensors to understand mooring tension and these are, of course, much more affordable and easier to service than deep water instrumentation systems!
"In short, it's an exciting time to be working at the intersection of data and engineering and we look forward to the challenges ahead."