The North Sea is a world leader in offshore wind renewable energy and has become a worldwide example of industrial transition thanks to its unique development over the last 50 years, as both the UK and the EU are making progress on the target of carbon neutrality by 2050. Home to a diverse energy mix and operating the largest offshore wind farms.
This session will look at how the offshore wind industry is committed to being able to deliver further cost reductions, ability to power the North Sea region and look at the future pipeline of new deployments.
BMT understands the unique challenges of operating in the harsh offshore environment, having operated in it for many years. We believe that only with such experience and expertise, can insights and solutions into this market be developed to assist customers in reaching their Offshore Wind Energy objectives, whilst reducing their risk and costs. 
Register and join us at this online session to find out more.
BMT Presentation
"Are we ready for floating wind?"
Tuesday 11 May, 09:00 - 10:30
Dale Hastings-Payne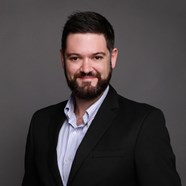 Dale is located in BMT's UK London office as the Technical Sales and Business Development Lead specifically targeting coastal infrastructure and energy maritime industries. He forms part of a growing team offering specialists consultancy services and products in offshore energy and decommissioning, and environmental services in flooding and aquaculture, for various sectors in the UK and Europe region. He has led and directed engineering projects globally for over 14 years primarily focused on marine and maritime related industries.