Build with Lego
Earlier this year, Team Defence Information's Joint Information Group Vanguard in the UK launched their first Defence Sustainability Challenge. The challenge put out a call for radical proposals to enable defence to reduce its environmental footprint, whilst still achieving its objectives.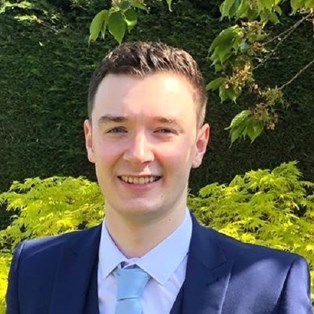 Our Environmental Consultant, Luke Harrison submitted his 'Build with Lego Concept' and was shortlisted to present to a panel of experts and Ministry of Defence (MoD) stakeholders at the LOGNET 20 Defence Logistics Conference.
The build with Lego concept is a circular economy concept ensuring materials can be re-used again and again just like Lego. Imagine your IKEA instruction manual also telling you how to best dismantle your flat pack wardrobe.
Luke highlighted the successes of Triodos Bank and their new circular economy building. It's put together with 165,000 screws and each material has its own passport to identify it for re-use. It's primarily built from wood and designed to be modular so if the company needs to relocate, or if the office closes, all of the components can be easily disassembled. Thomas Rau the Dutch Architect working with Triodos states "on average, the residual value of a building's materials equates to around 18% of the original construction cost."
Luke raised that the 'Build with Lego' Concept is also a way of thinking. A good example is from Dutch Bank ABN who state - "We are no longer just a financial bank, but a materials bank." What a fantastic way to think about their business. This is a financial bank stating there is great value in the materials, buildings, and assets they own too.
The judging panel consisted of 3* Lt Gen Richard Wardlaw, circular economy expert Catherine Weetman and a number of representatives from Harmonic. Luke along with 12 other shortlisted entries from across MoD and industry had five minutes to present to the panel.
The panel recognised that the 'Build with Lego' concept could be applied across the MoD and was more than just a technology, it was a way of thinking and working. As a result, Luke was selected as the winner of the challenge and was presented the award by Lt Gen Richard Wardlaw.
Luke was later invited to join the Joint Information Group Vanguard as our representative, to drive environment and sustainability innovation and wider collaboration within MoD. Luke has since been involved in organising the Defence Sustainability Conference for 2021.
We are primed to support customers in the circular economy and sustainability space by providing training and consultancy services to innovate and change the mindsets on the way we work to improve the sustainability and resilience of defence and beyond. Luke and our wider Environmental Team would like to hear from anyone looking to make those next steps by bringing their business and projects into the future way of working.