3D printing safety equipment for front-line NHS workers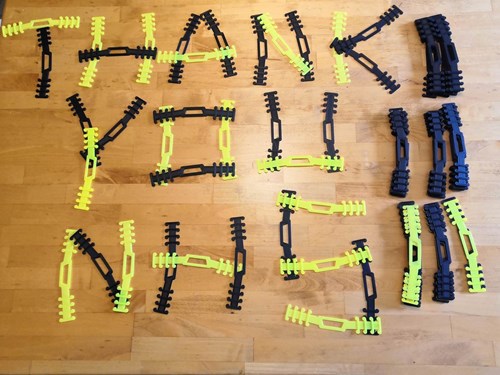 To support the NHS in the UK with Personal Protective Equipment (PPE) shortages, we utilised our full production capacity… the 3D printer.
Earlier this year, and at the beginning of the global pandemic, both our organisation's owned printer, as well as printers owned by employees across BMT were working hard for the cause.
In total the printers worked for over 1,000 hours and we managed to produce:
More than 200 visors – taking over four hours each to print
A whopping 3,104 surgical mask ear guards.  The surgical mask ear guards were designed to prevent rubbing and sores behind the ears caused by traditional surgical mask straps.
Kath Robinson, Lead Nurse Critical Care, Musgrove Park Hospital, Taunton, UK, said:
"On behalf of the whole Intensive Care Unit, I would like to say a heartfelt thank you for the ear guards. They were very gratefully received by the staff as some of the masks were worn for long periods of time and do cause sore ears. Your generous and thoughtful gifts provided a boost to everyone's spirits. We are very lucky to have the support of such a caring community throughout these unusual times."


Jake Rigby, Research and Development Lead said:

"I would like to say a massive thank you to all of our employees who helped print these items. Printing was slow, so we could only provide a small number of items at a time, but every little helps. Special thanks to David Lester-Card, Mark Sullivan and Siobhan Thompson for providing the funds to make it possible and all the people who printed items including Abigail Hall and Nick Williams."
The call for these PPE items came directly to us from the Frome and Yeovil Hospitals in Somerset where they were most in demand. These ear guards ensured that those working on the front lines and the patents were as comfortable as possible during these challenging times.